Verify your Tazapay account promptly by clicking the link in the email sent from no-reply@tazapay.com. If you don't verify within an hour, or if you don't receive the email, you can request for the verification to be resent.
Receive Verification Email: Once you create your account, you will immediately receive a verification email from no-reply@tazapay.com. Please ensure to check your spam/junk folder if you do not find the email in your inbox, and consider whitelisting this email address to avoid any inconvenience.

Click the Verification Link: The email will contain a verification link. Click on this link to verify your account. Please note that this link is only active for 1 hour from the time the email is sent. If the link expires, you will need to request a new verification email.

Request a New Verification Email: If you didn't verify your account within an hour, or if you didn't receive the verification email, you could request for the verification email to be resent.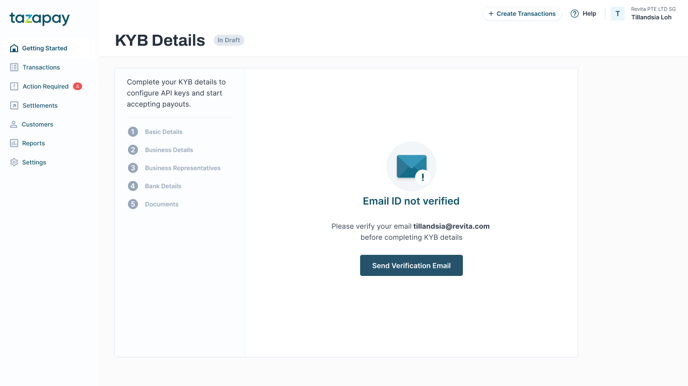 Remember, you will see a notice on your dashboard pages until your account is verified, reminding you to complete the verification process before using any of our products.